Home » Blog » Anti-Reflective Lenses
Posted by: Scott and Christie Eyecare Associates in Technology
Bright Lights, Big Glare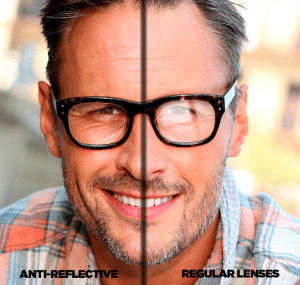 Driving at night can be challenging under the best of circumstance, but battling the glare from oncoming headlights can make a stressful situation even worse. Nowadays, you can beat the glare by opting for anti-reflective (AR) lenses.
Technological advances in anti-glare coatings virtually eliminate glare by allowing 99.5 percent of available light to pass through your lenses. That means fewer visual distractions when you're sitting behind the wheel, and less eyestrain when you're sitting in front of a computer (or any) screen for hours.
There's another advantage to going anti-glare—you'll look better. Your lenses will appear clearer, practically invisible, allowing people to focus on your eyes and not the reflection in your glasses.
By the way, the AR coating is applied in our full-service eyewear lab, allowing for personalized, hands-on production of your glasses.
Visit our Good Looks Eyewear stores in either Pittsburgh or Cranberry and ask our ABO certified Opticians about AR lenses.
Contact us at the Pittsburgh location or the Cranberry location if you have any question about Anti-Reflective Lenses.
---