Home » Blog » Welcome, Dr. Sara Stewart!
Welcome, Dr. Sara Stewart!
Posted by: Scott and Christie Eyecare Associates in Uncategorized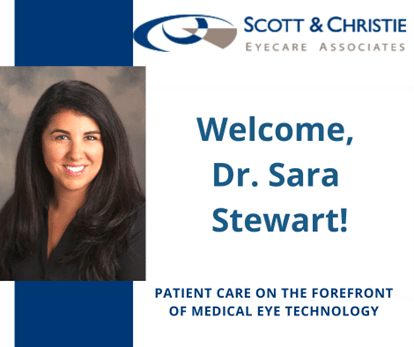 Scott & Christie Eyecare Associates is pleased to announce the addition of Dr. Sara Stewart to our team of physicians.
Dr. Sara E. Stewart, D.O is a board-certified ophthalmologist specializing in comprehensive ophthalmology with subspecialty training in pediatric and adult eye movement disorders. Dr. Stewart performed her undergraduate studies in Biology at Duquesne University in Pittsburgh. She received her medical degree at Lake Erie College of Osteopathic Medicine. After medical school, Dr. Stewart completed an internship at University Hospitals Richmond Medical Center in Cleveland, Ohio, and a preliminary medicine year at The Ohio State University's Medical Center in Columbus. She completed her ophthalmology residency at Michigan State University, Beaumont Oakwood Hospital where she was appointed Chief Resident. Dr. Stewart then pursued additional subspecialty fellowship training in pediatric ophthalmology at Akron Children's Hospital in Ohio.
Dr. Stewart is dedicated to the field of ophthalmology and brings with her over ten years of professional experience. Her career began as an Assistant Clinical Professor of Ophthalmology at the University of Pittsburgh's Eye Center and UPMC Children's Hospital, where she practiced ophthalmology and spent time teaching and training students and residents. She also lectured at many national and international ophthalmology conferences. She most recently worked in private practice in Hermitage and at a multi-location practice with offrices throughout western Pennsylvania.
We welcome Dr. Stewart to our staff, and we are confident that her presence on our team will greatly contribute to the care of our patient population. Please call (724)772-5420 for more information or to schedule an appointment to see Dr. Stewart!
---