Home » Blog » Glasses for Golf
Posted by: Scott and Christie Eyecare Associates in Technology
With the Masters Golf Championship right around the corner, Good Looks Eyewear wants you to be prepared when you are out on the Links. Serious golfers pay attention to their lenses. At Good Looks Eyewear, we have our own lab. That means we are able to personally guarantee that our lens products exceed industry standards and are personally customized for you.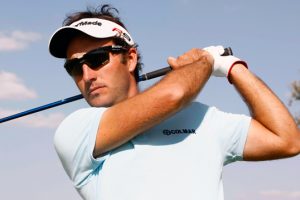 Progressive lenses are specifically designed for golf and allow the patient's prescription to be manipulated to accommodate any distance.
Polarized lenses block out the sun's harmful UV rays and let you see straight down the fairway with out any glare.
Now that you have the lenses that help your game, it's time to pick some frames that fit you. With the head motion that is involved in swinging the club, you want a pair of frames that are sure to stay on your head. Oakley's are famous for their wrap frames. These specific pair of glasses hug your head tight enough so they won't go flying off, but loose enough so you don't feel constricted. They are the perfect fit for everybody. Maui Jim is another famous brand worn by athletes. Most of the Maui Jim frames offer over-the-ear  arms that refrain from sliding off your face.
Any frame purchased at Good Looks Eyewear are personally fit to your head's own unique shape. Our ABO certified opticians are the best in town and always happy to assist you with any inquiries you may have.
Contact us at either our Pittsburgh or Cranberry locations.
Pittsburgh: (412) 782-1919
Cranberry: (724) 772-9090
---